Our Doctor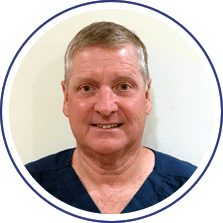 John Horlebein, DPM, FACFAS
John W. Horlebein, DPM, FACFAS
A Journey to Podiatry
Alpine Skiing was the catalyst that directed Dr. Horlebein to further his education in the healing arts of Podiatry. He began skiing with his first cousins in Cortland, NY at Song Mountain in 1975. His mother was a gifted ice skater and had him wear double bladed ice skates at the age of three. His family were avid pond ice skaters, and soon thereafter ice hockey was their favorite winter activity.
When alpine skiing was introduced to Dr. Horlebein, he attacked this winter sport with even more vigor than skating. His determination was to emulate Franz Klammer of the 1976 Innsbruck Olympics and to become the next Olympic downhill champion. He joined the Ski Roundtop Alpine Racing Team in 1976 and became a ski mechanic and salesmen at Ed's Ski Shop the same year. This ski shop's seasonal employment tenure lasted for more than ten years. During this time. he developed into a first rate ski boot fitter due to the advance boot fitting seminars of Doug Killam for which he attended for many years at the annual Skiing Mechanic Workshops. Dr. Don Chantiles was an avid skier and a well-respected Podiatrist of York, Pennsylvania. He quickly recognized Dr. Horlebein's aptitude for biomechanics and engineering and suggested he pursue a career in orthopedics.
Dr. Horlebein's first love was creating and building structures, so Ceramic Arts and Heavy Construction captured his attention first. He developed good craftsmen skills working in both the ski and construction industries as he acquired his college education in Civil Engineering at Penn State University, and graduated with a BS of Civil Engineering in 1985. Soon thereafter, Dr. Horlebein traveled to the San Francisco Bay area to work in the heavy construction industries as a project manager to build the San Jose Light Rail Transit Mall. After that four-year project was completed, he transitioned into the underground utilities sector of heavy construction. He met his wife at the 1988 "Ditch Diggers Ball" in San Francisco and was soon married in 1989. Before getting married, he joined her family's business as a Project Manager and Estimator for Pacific Underground Construction Inc. This employment tenure lasted for approximately four years and during that time, they had two daughters, Sara and Jane.
He grew restless with heavy construction and took notice when one of his former engineering colleagues became a physician. This stimulated Dr. Horlebein's thoughts of pursuing the healing arts of medicine, remembering what Dr. Don Chantiles had also suggested to him. Dr. Horlebein thought of the satisfaction of his days at Ed's Ski Shop, fitting ski boots on challenging feet, and how he loved working with his hands and helping customers. Foot and Ankle Orthopedics offered opportunities for him to work in those areas, so he enrolled in the California College of Podiatric Medicine in 1994. During this education tenure, he had his son Jacob and his third daughter Julia. Having four children during medical school, residency, and fellowship training was not for the faint of heart! That experience prepared him well for what followed thereafter.
A business opportunity developed in Chelan, Washington to purchase Frank Cobarrubia's Podiatry Clinic in 2001 soon after he completed his Podiatric medical training. January 2001, Dr. Horlebein opened his first Independent Podiatry Practice called Chelan Okanogan Foot and Ankle that serviced the Chelan, Brewster, and Omak, WA areas and the Coleville Confederated Tribes of the Nespelem IHS clinic. For the next twenty years, his independent practice transitioned several times and for a period of time, he was employed by the Lake Chelan Community Hospital. Most recently, he opened an independent podiatry clinic in Chelan, WA named Northern Cascades Foot & Ankle, LLC with eventual plans to extend his practice territories into Omak, Grand Coulee, and the Methow areas.
Dr. Horlebein enjoys the challenges of a full-scope foot and ankle podiatry practice. That is the reality of a rural practice. You never know what is going to walk into your clinic or the local Emergency Room. His Limb Salvage Diabetic Wound Care Fellowship prepared him for the management of healing difficult wounds of the lower extremities. The recent availability of Multi-Wave Locked System Class 4 Laser Therapy is a sports medicine game changer. This noninvasive patented MLS Laser treats pain, inflammation and arthritis, and the efficacy of this technology is greater than 90% for most patients. The therapy is painless, and it has very few contraindications. He is so excited to add this and other cutting-edge technologies to his podiatric clinic experience.